We've made it to Friday yet again! Get I get an AMEN?!
This week was certainly not my favorite but the great news is that once it's over..
a new one starts that is bound to be better!
Thank god for that, right?
Today I am linking up with my favorite Vegas living vixen who I hope returns to the blogosphere soon.. Lindsey aka Miss Bargain Blonde! We miss you lady!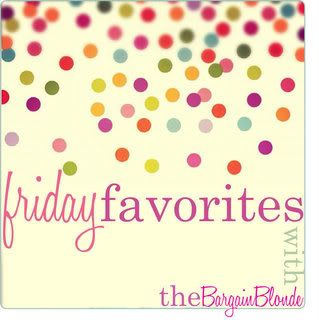 Favorite Blogger
Whitney @ I Wore Yoga Pants
Oh goodness, I'm quite sure that you'll be sick of me talking about this lady here in about a month but guess what? You can thank me later! This girl is funny, witty, and adorable. She has managed to crack me up all week and we've even got something up our sleeves for you wonderful readers.
Stay tuned! Oh, and while you're waiting.. go check her out!
Favorite Weekend Plan
This weekend I am headed to the Denver Broncos game with my Dad to watch them beat the Houston Texans ;) Just kidding, I hope they win but I'm not betting on it. I'm just excited to spend time with my Dad, doing one of my favorite things! The weather should be gorgeous and it's going to be a blast. Don't let me down Peyton!
Favorite Purchase
Ann Taylor LOFT Pleated Color Pop Skirt
I decided to wander into Ann Taylor LOFT last weekend since they were having a 40% off Sale. It's usually very hit or miss for me in there, but luckily I was able to find a few things. This little number was my favorite find. I absolutely cannot wait to rock this little number with a black and white sweater and tights when I head to Stillwater next month! Ps. It's showing up as $54.99 online but I purchased it for $14.99 so I would suggest going into the store to look for it.
Favorite Song
Glee- Artie and Blane Boys/Boyfriend
Last night was the Britney 2.0 episode of Glee and I loved every second of it. I have and always will be a Britney fan so I loved that they did some of her older music and lesser known songs. "Boys" happens to be one of my all-time favorites and I loved the mash-up they created with Justin Beiber's "Boyfriend". Plus Artie and Blane? Love them and their voices. I downloaded the whole episode playlist and will be jamming at work today.
Favorite Show
I know I'm a little late to the club but I am loving Parenthood! I just started watching the first season last weekend and now I'm hooked. While I don't love that I find myself tearing up every 10 minutes, I love the cast and the story line. It's great! Don't be surprised if I spend all day Saturday watching it on Netflix ;)
What were your favorites this week?
Link-up and share!
Have a fabulous weekend and see you Monday for Weekend Update!