Hey Girls Hey!
It is finally freakin' Friday! 9 more hours and then I'm free for 48.. I like the sound of that. Well until Sunday night comes along anyways. The one thing annoying me today? My email. Why? Because even though the lovely university of Oklahoma State allows us to keep our email addresses for life, which is awesome, they make me change the password what feels like every five minutes and I ALWAYS forget. Well now, I'm locked out and I have to call the school to get it unlocked. Annoying with a capital A, right? Anyway.. moving on. It's time for my favorite link-up!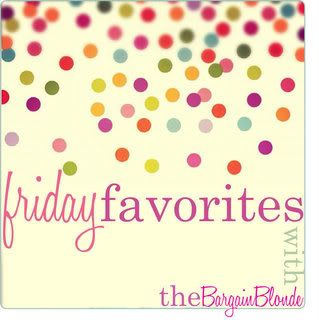 Favorite Win
I woke up Thursday morning to an email saying that I won tickets to sit front row at the Madonna concert in Denver next week! My Mom and I already had tickets and when we purchased them through Live Nation we were entered in to a sweepstakes and I was one of the 25 people picked from our city. I'm so excited, it's going to be so awesome! Oh, and a few years ago I dressed up as Madonna in the "Like a Virgin" outfit for Halloween and I'm seriously tempted to pull it out of the archives for the concert. What do you think?
My Dad got us tickets to go to the
Great American Beer Festival
in Denver this weekend. We went last year and it was so much fun! This is probably the best perk of having a Dad who owns a liquor store. I mean the tickets are $65 a piece and always sell out in like five minutes, but my Dad somehow always gets them for free! Plus, last year we got invited to a Sam Adam's pre-party and I got to meet the owner of the company. Cool huh?
Favorite TV
Holy crap who watched Vampire Diaries last night? If you're raising your hand then you know how amazing/gut-wrenching last night's episode was. If you didn't watch.. what the heck are you waiting for? There were ups and downs all over the episode and my emotions were all over the place. Although Stefan crying? I could have done without that bit. Which is why I am and always will be Team Damon! Also, Klaus? I hate to admit it but I just love him. Obviously I have a thing for the asshole types. This is a huge shocker to everyone that knows me.. not.
The other show I caught up on last night was Modern Family. I swear, that show has me in tears from laughing so hard almost every episode. My favorite parts? Cam and Mitch fighting with the lesbian couple and Phil's book "Phil's osophy".. I mean tell me you don't wish you had a copy of that? The screen shot of the tweet above was the last line of the show and I loved it! The people who say Modern Family isn't funny are officially crazy.
Favorite Plan in Action
The greatest blogger meet-up eva!
November 29th, 2012 in Chicago, IL
Here's how it went down:
Dana
and I have been planning for me to go out and visit for awhile now, and a few weeks ago I bought a plane ticket for that weekend.
Chris
, who also lives in Chicago, was of course invited to spend the weekend with us. Then..
Dana
and
Leeann
started talking and somehow
Leeann
was convinced to come too, all the way from California. So yes, the three Weekend Update hosts will be together for a whole weekend and you can expect the most epic link-up ever on the following Monday! So far, we've got plans for RPM, 80's movie night, and my favorite part.. the launch of the Target & Neiman Marcus collaboration. It's going to be so fun and I just can't wait!

Favorite Handbag
Cynthia Rowley Calf Hair Satchel
I was looking for a new Fall handbag but I couldn't find anything I really liked. Well except the Deux Lux Empire Strikes Back, and at $170 I just couldn't justify it. Then I randomly stumbled on
PIPM
's blog sale and fell in love with this bag. One look was all it took and I was sold. It's a little bigger than bags I normally carry but I'm choosing to overlook that ;) Isn't she gorgeous?

What were your faves this week? Link-up and share!
Have a great weekend and see you Monday!