Oh Hey There Friends!
It is seriously only Wednesday? Is this real life? Between work and all of this snow I feel like I at least deserve to be at Thursday by now. But hey I'm looking on the bright side, I successfully pulled my hair into a bun on my first try this morning. Come on, we all know that is a win!
Today's post is kind of awesome.. I'll never turn down an opportunity to
not
apologize for things. I hate apologizing, I hate confrontation, and I'm always right.. or something like that.
Sorry I'm Not Sorry...
... for saying whatever is on the tip of my tongue without thinking first.
Hey, at least you know I'm honest!
... that texting my blogger loves keeps me mostly sane, and by that I mean I talk to them more than I talk to anyone else and I'm not sorry about that either
. PS. I thought about including a screen shot but our texts are too scandalous and for our eyes only. Bye.
... for wishing that
Max
was a Newslady here so that I'd have a reason to watch the news.
See also: none of the news people here try to get Justin Beiber to retweet them, maybe if they I'd like them more.
... that I get most all of my news from Twitter and SNL's Weekend Update.
Try and tell me that Seth Myers isn't a god, just try. PS. Can I take over for him when he leaves?
... that I could easily eat chips and salsa for dinner every single night.
Calm down, the important thing here is that I don't.
... for spending a majority of the day on Twitter and Instagram.
I've gotta get my kicks somewhere, and I can assure you it's not going to come from my coworkers who insist on always leaving :01 on the microwave. Does this annoy anyone else as much as it's annoys me?
... that I'm so totally over the snow and cold.
Get off me Winter!
... that I really enjoy turning on Pandora and dancing like a crazy person while I get ready.
That kids got the moves, and SO DO I.
... for having zero interest in seeing Les Miserables, or Anne Hathaway singing, or Anne Hathaway period.
Okay maybe I do sort of enjoy the fact that she shaved her head.
... that I spent an hour looking at GIFs from The Hills last night.
There just isn't good quality "Reality TV" like this anymore. Except Vanderpump Rules, but lets be real give me LC or give me death.
... that I'm convinced I will be Mrs. DeGraw someday.
What does Kim Zolciak say again? "Ask, Believe, and you'll Receive." Guys, she went from being with a married guy named Big Poppa to getting wifed up by a NFL player. I think I'll play along.
... for this being an incredibly sassy post.
I'm channeling my inner Beyonce today, obvi!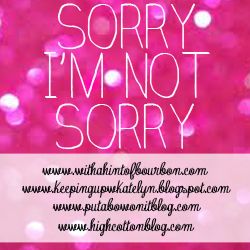 Linking up with my loves
here
,
here
, and
here
!